Description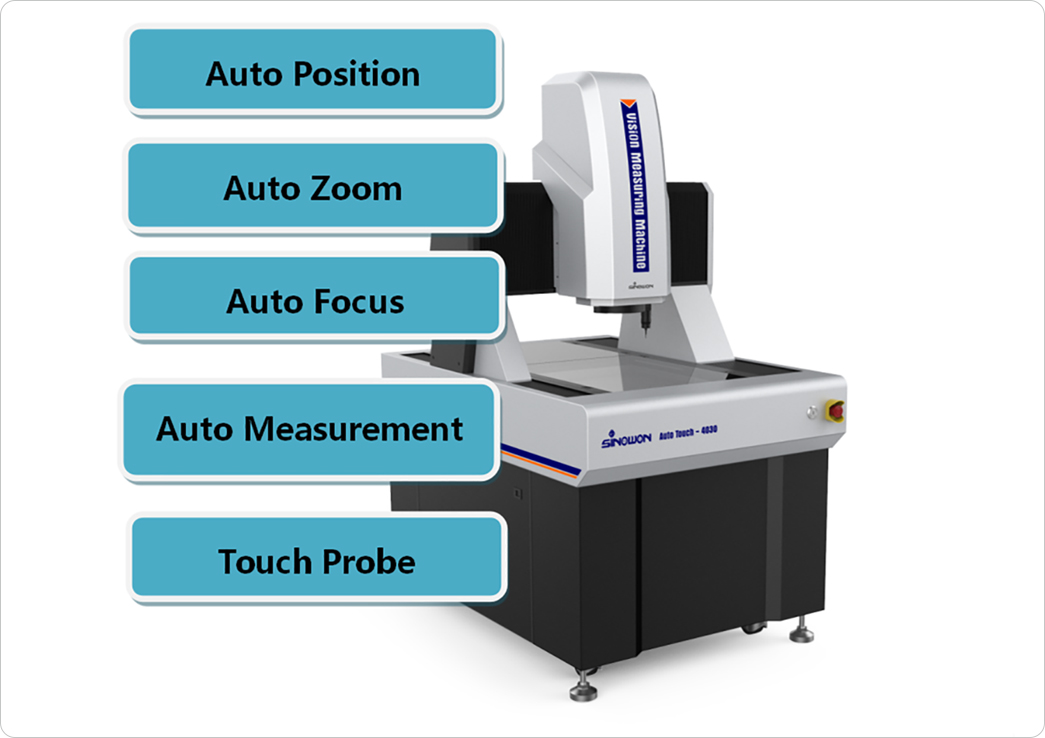 3D AutoTouch is equipped with Touch Probe to realize 3D Measurement. Four-axis is motorized control and measurement, it is very easy to operate and can meet with widely application for precision industry measurement.
Product Characteristics
◆ Moving bridge structure, measured workpiece is fixed;
◆ Four-axis CNC fully auto close loop control, auto measurement;
◆ "00" grade "JINANQING"marble base and pillar, stable and reliable;
◆ Imported open type linear scale, resolution is 0.1um, high accuracy, great stability;
◆ Imported P grade linear guide, precision grinding ball screw and AC servo motor, ensure accuracy stability of system  position;
◆ Imported high definition color industry camera, ensure clear observation and stable measurement requirement;
◆ 6.5X continue auto zoom lens, precision auto zoom, only need to make pixel calibration once time;
◆ Programmable 5-ring 8-division LED surface illumination, contour parallel LED illumination, can realize 256 grade brightness adjustment intelligently;
◆ Equipped with imported touch probe, realize 3D measurement;
◆ With proprietary fully auto measuring software iMeasuring 4.2, powerful function, simple operation;
◆ Optional laser probe, it can also be customized according to customer request;
◆ Optional FexQMS Measuring Data Analysis and Real-time monitoring software which enhance program control and reduce material consumption.
Technical Specification
Product Name
3D Autotouch Automatic Vision and Touch-probe Compound Measuring Machine
Model
AutoTouch 432
AutoTouch 542
AutoTouch 652
AutoTouch 862
Code#
521-121
521-131
521-141
521-151
X/Y-axis Travel(mm)
400x300mm
500x400mm
600x500mm
800x600mm
Z-axis Travel(mm)
200mm
X/Y/Z 3-axis Linear Scale(mm)
Imported Open Linear Scale, resolution:0.1um
Guidance Mode
Imported P grade linear guide,double-track double slider guide
Operation Mode
Joystick controller, Mouse operation, automatic detection program
Measurement Accuracy
XY-axis:≤1.8+L/200(um)
Z-axis:≤5+L/200(um)
Repeatability
±2um
Video System
High definition 1/2″ Color CCD Camera, Image navigation system
6.5X Automatic Zoom Lens; Optical Magnification: 0.7X~4.5X, Video Magnification: 20X~129X(21.5"monitor)
Field of View(mm)

(Diagonal *Horizontal*Vertical)

Lens Magnification
0.7x
1x
2.0x
3.0x
4x
4.5x
1/2″CCD
11.43×9.14×6.86
8.00×6.40×4.80
4.00×3.20×2.40
2.67×2.13×1.60
2.00×1.60×1.20
1.78×1.42×1.07
Illumination
Contour
LED Parallel Contour Illumination
Surface
5-ring 8-division 0~255 grade continue adjustable
Software System
diMeasuring 4.2 Fully Auto Measuring Software
Load Capacity
30Kg
30Kg
30Kg
30Kg
Working Environment
Temperature 20℃±2℃,Humidity Range<2℃/hr,Humidity 30~80%,Vibration<0.002g,<15Hz
Power
220V/50Hz/10A
Dimension
1160x800x1650mm
1450x950x1650mm
1600x1050x1650mm
2000x1200x1650mm
Packing Dimension
1380x1170x1910mm
1690x1300x2000mm
1800x1400x2000mm
2300x1700x2000mm
Weight(Kg)
650Kg
780Kg
1380Kg
2000Kg
Product Details